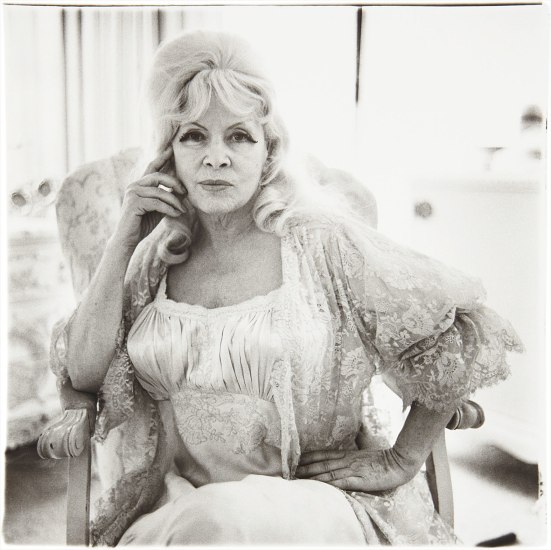 Diane Arbus' Noah's Ark of Humanity – A legendary photographer's unfinished book
By Randall Decoteau
This article was written in response to the exhibit Diane Arbus: Family Albums at the Portland Museum of Art.
In 1968, three years before her suicide, the great American photographer Diane Arbus (1923-1971) wrote that she was compiling her photographs into a 'Family Album,' likening it to a 'Noah's Ark' and imagining in it the people who might be remembered and saved in the aftermath of the tumultuous 1960s." Exhibition label, Portland Museum of Art, Diane Arbus' cast of characters is a startlingly unusual group. They are people held together by all sorts of bonds, traditional and alternative, yet each merits special attention. Her mothers, fathers, children, and partners are people on the edge. They represent not only those on the margins of society, but traditional people, normal folk, who somehow look just as strange through the filter of her lens.

A sort of documentary history
She compared herself to Noah, "The working title, if you can call it that, for my book, which I keep postponing, is Family Album. I mean I am not working on it except to photograph like I would anyway, so all I have is a title and a publisher and a sort of sweet lust for things I want in it. Like picking flowers. Or Noah's Ark. I can hardly bear to leave any animal out," asserting further, "all families are creepy in a way." Her photographs of families offer a sort of documentary history. They give physical form to the abstract set of relationships that define family. It's really the relationships that she examines. She shows the 'relatedness' of her subjects to each other and to the world beyond. She also depicts friends, neighbors, and relatives, appearing to document the family's integration into a larger community.
Her photographs offer respect for those who represent marginal elements of society like carnival workers, female impersonators, and tenant farmers. Yet her ordinary suburban families get the same treatment in her work. The images of the Ozzie and Harriet Nelson television family offer both public and private looks at the same sitters, and help us to widen our field of vision and look at domestic space and the qualities of domesticity as recurring and structural motifs. According to Anthony W. Lee and John Pultz in their catalogue accompanying the show, given the extraordinary difficulties surrounding so many projects about Arbus, they actually embody in their fragmentation and disjointedness something of the challenges and pleasures in studying this most important photographer and her pictures. "As we have learned, for every absence, there is presence. For every gap, there is the possibility of filling in," they wrote.
Bedroom photographs
Brenda Diana Duff Frazier, photographed in 1966, stares dully from her bed with cigarette in hand. Her face, framed by a tufted chintz headboard and marabou bed jacket, is sharply lit by a bedside lamp. She barely resembles the celebrated beauty, who was 1938 debutante of the year. Her tired, jaded, and bored expression is amplified by Arbus' starkly pedestrian background. One wonders at the artist's ability to talk her way into this woman's bedroom. How did Arbus draw out and reveal so much about Ms. Frazier in this single image?
There are other bedroom photographs of subjects like Madalyn Murray, Mae West, and Andrew Ratoucheff. Each reveals her interest in the oddities within those who pose for her camera. She has the uncanny ability to capture people on the outer boundaries of acceptability. With each photo, it becomes apparent that the artist has the ability to eliminate private space. There is little delineation between public and private here. Arbus' scrutiny is uncanny – sometimes humorous, often critical or sympathetic, but seemingly non-judgmental.
Jayne Mansfield Cimber-Ottaviano, actress, with her daughter, Jayne Marie, 13, 1965.
Underlined artifice
One point of style in her photographs is that she leaves the black edges of the negative visible on the print. This draws awareness that the image is a work of art and it underlines the artifice of the photograph as opposed to it being a window on the world. She also poses her subjects and shoots them from a lower vantage point than is customary. This often forces the viewer to focus on the knees and legs of the sitters. Good examples of this phenomenon are the photographs of Bennett Cerf, Marguerite Oswald, a group of feminists, and the King and Queen of a senior citizens' dance in NYC. In the latter shot, the glasses on the King and Queen become a sort of mask, complete with the glare of the flash bulb, and the Queen's opaque panty hose draw attention to the absurdly regal robes that the couple is wearing. Other photographs are in such sharp focus that hair and makeup become masks as well. They help to blur the lines between public and private personas. Two photographs of Mrs. T. Charlton Henry, the noted socialite and fashion luminary, are in a sense clown-like. One wonders whether she saw herself as we do.
Parental subjects
Mothers, stock characters in most family albums, help to secure the notion of family. By their mere presence, they bring together the photographs of any album. Some figures are matriarchal simply because their notoriety is derived from their status as mothers. These might include Marguerite Oswald, Madalyn Murray, and Flora Knapp Dickinson (honorary regent of the Daughters of the American Revolution). Other subjects, such as Blaze Starr, the sexy Mae West, and the wartime personality Tokyo Rose, were made to seem maternal in part because of the domestic settings in which Arbus photographed them. She takes a similar approach with fathers. The authors tell us, "Typical of Arbus' interests and sensibilities as a photographer, she sought out men whose claims to fatherhood derived from different forms of authority and public presence." Photographs of writer Normal Mailer and physician Donald Gatch are representative of this body of work.
The Matthaei shoot
An important collection of previously unknown contact sheets, working proofs, and final prints from a family photo shoot are included in this exhibition. Commissioned in 1969 by Konrad Matthaei, an actor in the long-running soap opera As the World Turns and owner of the prosperous Alvin Theater, the 322 images, 200 of which are represented in the 28 contact sheets that Arbus gave to the Matthaeis, provide valuable insights into the artist's photographic strategies and practice. Curator Susan Danly suggests that they reveal a family accustomed to the spotlight of celebrity, but also vulnerable to Arbus' inquisitive eye. Nothing was known of the Matthaei shoot until fall of 1999, when Konrad's wife Gay, a Holyoke alumna, and her oldest daughter, Marcella, came forward with the prints and contacts and offered them on loan to the Mount Holyoke College Museum of Art.
It is uncertain how much Arbus knew of the Matthaei family before the shoot. It is likely that she knew of the family's celebrity, so the interrogation between public and private identity that emerges in the photographs is typical. She appears to have been given free rein of the family and house and shot as she pleased. The informal qualities of the photographs suggest a photographer silently and unobtrusively recording the family's daily life according to Pultz. "The image here of Arbus as a fly on the wall is a corrective to the usual one of her at work in which, as it is sometimes imagined, she was a predator zealously, even uncontrollably, out for prey."
The sheer number of shots suggests a professional busily at work, but also an artist intensely scrutinizing a family suited to her Family Album. This was a family, not unlike her own: upwardly mobile, well educated, cultured, a New York family living on the Upper East Side. The session offers several centers of attention that, because they seem the product of a chance encounter, encourage the viewer to read the pictures as unproblematically real: not structured, not transparent, not contrived.
Truncated career
Born into a wealthy family, Diane Arbus lived and worked in Manhattan. She began her career as a fashion photographer, working for magazines like Vogue and Glamour in the 1950s. Once on her own, she shot portraits for Esquire, between 1955 and 1957 she studied with Lisette Model and began to develop her penetrating documentary vision, which became very different from her commercial work. By the 1960s, she had gained a substantial reputation as a photographer of New York's many subcultures. In 1967, she was one of three photographers invited to participate in The Museum of Modern Art's influential exhibition New Documents. After her suicide in 1971, her MoMA retrospective attracted easily as many viewers as Edward Steichen's famous Family of Man exhibition in 1955, confirming Arbus' stature in the history of photography.
Family Albums.
Photographs by Diane Arbus. Text by Anthony W. Lee and John Pultz.
Yale University Press, New Haven, 2003. 168 pp., 65 duotone illustrations, 9×10″.
ASX CHANNEL: Diane Arbus
For more of American Suburb X, become a fan on Facebook and follow us on Twitter.
All images © copyright the photographer and/or publisher